What happened to Illuminandi? 2019 update
18 June 2019
Dear friends,
29 November 2013
In the beginning of a new week we've got some announcement for you. How surprising it may sound, Jan is no longer a member of Illuminandi. Read what he says in his statement:
"Dear friends,
It feels strange writing these words, but here I am – life is full of surprises. It's been 15 years since the first Illuminandi rehearsal took place. When me and Aleksander Kozioł started the band, I don't think any of us had the slightest idea it would survive for such a long time, record and release albums, shoot a pretty epic video, travel throughout Europe… For these past 15 years I have been giving away most of my "free" time and energy to the band. I've been putting my heart and soul into it – hardly anything was more important than practising, rehearsing, writing songs, handling the "business"… It was a great time – a time of friendship, sharing a mutual passion, personal growth, meeting amazing people, facing and solving problems… a time of dreams coming true. These memories will always be a source of immense pride and joy for me. However, right now I am at the stage in life where I feel I really need to focus on my other interests and face the challenges I have been neglecting due to the amount of time that being a part of Illuminandi required. This is why, with a heavy heart, I would like to tell you that I have decided to leave the band. I have thought this through and made the decision with the band's full support. I know I am going to miss music, but I really feel this is the price I must pay for my personal and professional growth. I would like to give my sincere thanks for those amazing 15 years to all, both past and present, official and unofficial, Illuminandi members: Alek, Tonia, Patrycja, Olek, Szymon, Janusz, Papirus, Krzysztof, Regina, Tomasz, Bulba, Melon, Radosław, Paweł, Kuba, Zawilec, Mariusz, Agata, Orange & Podły. I'd also like to thank everyone who supported me on my musical journey – you know who you are! My regards go to all the bands, organisers and amazing people I was privileged to meet at shows, festivals, rehearsals… Perhaps one day we shall meet again!
Thank you! Peace out!
Jan"
Our time with John in the band is over for now, but goodbye doesn't have to mean forever. We would like to say thank you John for your commitment and dedication – you were the heart and the dynamo-buster-turbo of the band. The future is going to be a real test for us, nevertheless, we hope we will be able to create music and play concerts with the new line-up. It means we're looking for the new singer and guitarist. If you or somebody you know can sing or play the guitar well, and would like to try their hand at Illuminandi, feel free to contact us.
New official band photos.
24 October 2012
During our mini-tour with SSOGE in the Czech Republic, our good friend Grzesiu Furlaga managed to take a few photos. You can see the whole photo-report on his blog. Today we are posting the first official photo of the new (well, not so new – we've been together for a year now) line-up. Stay with us – more photos will come soon.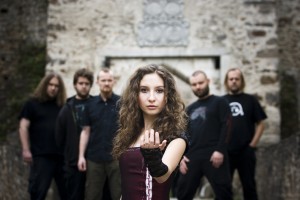 Thanks Germany/Holland/Belgium!
23 October 2012
Yesterday evening we got back from our mini-tour that took us to Germany, the Netherlands and Belgium. Now we're back home, tired but very happy. We'd like to thank all the people involved in organizing the shows, people who took care of us, our friends who came there to support us, and all the people who turned up at our shows – you were a fantastic audience! Special thanks go to Immanuel Boie (our Number 1 Belgian Fan – we're lucky to have you!); Thomas, Siebolt and his wonderful wife & kids; Markus, Tobias, and the rest of the Blast of Eternity Crew. Hails to all the terrific bands we share the stage with, especially Veritas Infinita, Beyond the Doom (thanks for the cabs and for rocking the place!!!), Suada (thanks for your backline and support) and Nachtschatten (for all the fun we had). Sorry if we forgot anyone, you know who you are and we are grateful! God bless!
PS Here's some photos from Germany and the Netherlands.
Thanks!!!
30 September 2012
We'd like to express our deepest gratitude to our Czech friends SSOGE who invited us to take part in the 2 Samhain Fest shows which took place on 27 & 28 September in Ostrava and Brno. We had an absolutley great time! Our sincere thanks also go to Petra Jadrná & Cruadalach, all the people involved in organizing the shows and looking after us, especially to Mr Hrnčíř (senior) for delicious food and a great sense of humour. Thanks to all other bands we shared the stage and partied with, especially Darkest Era (You rock guys, stay who you are!) and the mighty Virrasztok!

We hope to meet you again! Peace out!
Here's some photographs, both live and back-stage.