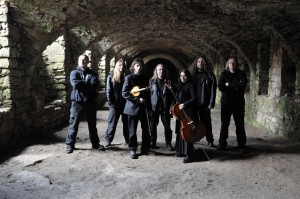 Illuminandi is a seven-piece Polish band that performs a unique style of rock music in which heavy guitar riffs are as prominent as haunting cello and violin melodies. Although sometimes described as "folk metal" or "gothic metal", the band's sound does not easily yield to boundaries. Even though Illuminandi appeals to most melodic metal fans, their music also contains elements of extreme metal, classical music, European folk music, progressive rock, early music and even hardcore.
The band's discography consists of two albums and one extended play (EP):
The Beginning (2005), Bombworks Records (compilation of demos and live tracks)
Illumina Tenebras Meas (2007), Mocne Ramię Records (EP)
In Via (2010), Ars Mundi (LP)
The band's latest album In Via (Latin for "on the way") features guest performances from members of Celtic band Open Folk (Paweł Iwaszkiewicz – recorders, shawm) and Polish avant-garde folksters Żywiołak (Robert Jaworski – hurdy gurdy) as well as two former Illuminandi vocalists. The CD was mastered by Polish mastering legend Grzegorz Piwkowski. "In Via" was released on Ars Mundi on May 28 2010.
Illuminandi have shared the stage with artists such as 2TM2,3, Ador Dorath, Anastasis, Armia, Cemetery of Scream, Dissolving of Prodigy, Greedy Invalid, Holy Blood, Kreyson, My Silent Wake, OX, Pantokrator, Pillar, Project 86, Rootwater, Sacrificium, Silent Stream of Godless Elegy, Tourniquet, Virgin Black and many others.
---